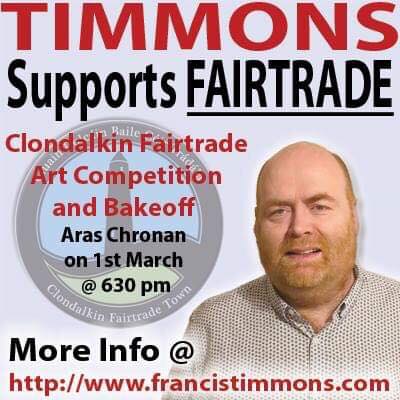 In 2013 Clondalkin became the 51st Fairtrade town in Ireland and the first in South Dublin County Council; this was thanks to Paula Galvin and the children of Clonburris National School, we are now one of 1850 Fairtrade towns in 30 Countries , There are 1,411 Fairtrade certified producer organizations in 73 countries.
This year the main focus of this year's campaign is bananas, did you know that only 9% of Bananas sold in Ireland are Fairtrade?
This is significantly lower than other European countries such as Switzerland where 50% of bananas sold are Fairtrade and the UK where over a third of bananas are Fairtrade.
When a product carries the Fairtrade Mark it means it was produced according to international Fairtrade standards. These standards ensure Fairtrade products are socially and economically fair and environmentally responsible. Key standards include the payment of a minimum price and a premium.
By choosing to support Fairtrade, we can add OUR voice to demands for a trade system that puts people, not profit, at the heart of the transaction. Our voices become louder when we speak together. We can all make changes, by buying Fairtrade Tea, Fairtrade Banana's, Fairtrade Chocolate etc. all products we all use , we can help people get a fair deal for their products.
It may mean to going to the next shop to find the Fairtrade product but to the farmer and his family every Fairtrade purchase you make helps them to trade their way out of poverty and control their lives.
Our voices become louder when we speak together.
With Fairtrade the power to change the world every day is in your pocket. With one simple purchase you can get farmers a better deal.
And that means they can make their own decisions, better control their futures and lead the dignified life everyone deserves. Our voices become louder when we speak together.
We are global citizens sharing a planet and just as every citizen in Ireland wants fair pay for a day's work Citizens in other countries want the same. Social Justice and human rights Maters because people matter we are all in this world together as part of a Global World.
With Fairtrade you have the power to change the world every day. Think about that, by making a choice to buy Fairtrade you have the power!
With one simple choice you can get the farmers a better deal. You have the power to have a positive effect on others by your choice.
You could also contact every person running for the local and European elections and ask them there stance on Fairtrade lets elect people that have social justice high on their agenda.
Our voices become louder when we speak together.
We are looking for people to become involved! Please contact me if you can help Clondalkin as a Fairtrade town